Formed in 2008 by Chicago housemates with a list of things to do and a list of things not to do. Drawing from heavier mid-western and west coast post-punk, as well as their own experimental tendencies, they create a potent, driving, high-energy brew. In 2015, they breached the list of things not to do and added a bass player, one Reg Shrader (Seam, Circus Lupus).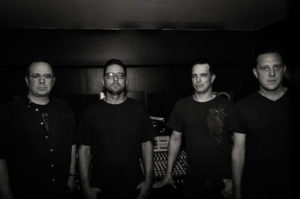 Adding Reg's bass playing simultaneously provides another weight and momentum to their already massive sound. Drummer Jim Duffy (Lardo) pounds things out at the nucleus, steering the swarm of colliding and intertwining guitars & vocals by Matt Seifert (Cool Devices) & Kris Poulin. Their latest release, the 4-song Ohms EP, continues their tradition of buried truths (and lies). It was recorded in the depths of their Chicago hideout, mixed at the San Diego staple, SDRL and mastered by Carl Saff. It is a call to all people who (should) know better.
You can visit Phantom Works at their Bandcamp page and on Facebook.
Phantom Works' Releases 
Previous Releases
2015 Stunrise LP (Alliterative Accord)
2013 Fit in the Shank split EP (RockProper)
2011 Phantom Works LP (Sick Room)
2010 Live EP (Power Recordings)
2010 "Sick Machine" b/w "Pure Error" & "Song Ate" (self-released)
2010 "SuitSat" b/w "Double Krakow" (self-released)
---
Gallery