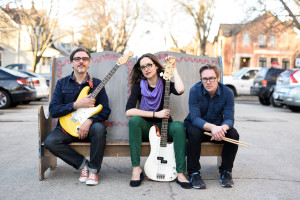 Vamplifier, the brainchild of Scott Shehan, has seen many line-ups and iterations over the years, but the trio of Shehan (guitar, vocals), Jane Hanna (bass, keys, vocals), and Chris Negrete (drums, vocals) have been the core of the band for almost a decade. They are a close-knit family – literally: Shehan and Hanna are married, and Negrete was their only wedding guest! – and their deep friendship and respect for one another comes through in their democratic songwriting, and unique style which blends their individual influences into a hard-to-pin-down sound.
Musically, Vamplifier moves effortlessly between garage rock, glam, pop and psychedelia and Scott's growly vocal style, reminiscent of early Tom Waits, contrasts nicely with Jane's and Chris' harmonies. Vamplifier's influences are many, ranging from the subtle grace of David Bowie and Roxy Music to the gritty sound of bands like The Clash and The Ramones.
Vamplifier's Rogue Moon EP will be released in March.
You can also visit Vamplifier at their Bandcamp page, at ReverbNation and on Facebook.
---
Vamplifier's Releases
---
Gallery