Photo-Curio formed in Chicago in early 2014 when Ben Pfeifer (bass and vocals) and Robie Anson (guitar and vocals) got to know each other in a guitar workshop. With the addition of Matt Haddock (guitar) and Melissa Scales (drums and vocals) they began songwriting in earnest. After writing and practicing for months in what was formerly a factory that made photo albums and memorabilia, they chose the name Photo-Curio.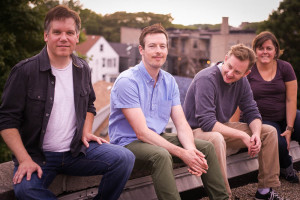 Photo-Curio's music blends atmospheric drone-rock noise, melodic finger-picking, and a rhythm section that pumps, rumbles and pulses underneath it all. With influences ranging from Deerhunter and the Replacements to Nirvana and Sonic Youth they arrived at a sound that is, in equal measures, rock, psychedelic, experimental and pop (in the best sense of the word).
Photo-Curio's eponymous first EP was recorded in 2015 and was released in February. They're currently playing shows and will be going back into the studio soon to work on their next release.
You can visit Photo-Curio at their Bandcamp page, on Facebook, at ReverbNation or follow them on Twitter.
---

Photo-Curio's Releases
---
Gallery